Choosing the Right Prescription Lenses for Me
Too Many Lenses to Choose From?
We believe making the right prescription lens choice, can make a real difference to how you feel. Everything we do is centred on producing the very best solution for you, which starts with making the right choice. Once you know you have the correct prescription, you need to find the perfect style of lens to suit you. By this I mean, which lens tint do you choose, and do you choose a mirror finish, or not.
Below you'll find information about the various prescription lenses we offer. Our range includes sun-lenses, Transitions® lenses and clear lens options. Whatever you're looking for we can help. If you want our advice on how to choose the right prescription sunglasses for you, just get in-touch. Here's some information that may interest you. Almost all of our lenses are made from NXT/Trivex® which we feel is the very best option for anybody with a sports or active lifestyle. The only exception is our clear office lens option, which as it's name suggests is specifically designed for office use.
We are always happy to chat and guide you through some possible choices. Many of our customers have questions and we are here to answer them, so call us for some friendly advice: +44(0)1622 844030 or email us: [email protected]
Many of our customers use the Home Trial Pack which enables you to take your time and try on frames in the comfort of your own home. If you ask us to include a couple of (non)- prescription sunlenses we can do that too, as this will help you to get a feel for the tints.
Here is a bit of information about the lenses we offer:
Copper/ Brown- Photochromic Lenses
A punchy, high definition colour enhancing lens.
Our high speed Copper/Brown 'Alutra' Photochromic lenses are optimised for high contrast environments. Perfected over thousands of hours of real time testing by pilots and drivers, they're also amongst the fastest in the industry.
Grey HCNB Lenses
A revolutionary colour capturing grey lens.
Our Grey 'Zeolite' High Contrast Narrow Band (HCNB) lenses make colours come alive. Experience true colour perception and benefit from Light Management technology with this High Definition grey lens.
HCNB technology allows the eyes to receive more specific colour information which increases the sharpness and clarity of the image whilst reducing fatigue.
Grey HCNB Polarized Lenses
A glare reducing lens that cuts dazzling reflections from roads, snow, sea, and sand.
All the benefits of our Grey 'Zeolite' High Contrast Narrow Band lenses with the added benefit of today's most sophisticated polarized film technology. Reflected light from sand, snow and sea is filtered out to reduce glare and enhance image definition and contrast.
The key to Bigatmo's Zeolite Polarized lenses is the filter placed inside the lens. This filter, which can be likened to a tiny venetian blind, allows light to pass through the lens in the horizontal plane but not the vertical: light that has bounced off a reflective surface, such as water or snow, is filtered out, dramatically reducing glare.
Eye comfort is greatly enhanced while 'clutter' reaching the eye is reduced, improving the contrast and definition of the image.
Transitions® Lenses
Choose from Brown or Grey Transitions® lenses. They are a versatile lens as they adapt their tint level constantly in relation to your surroundings. They change from clear to tinted as required whether indoors or outside.
Clear Prescription Lens Options
Clear NXT/Trivex® Lenses: If you are choosing a clear lens for sport or work and you need the reassurance of good impact resistance, then this has to be your lens of choice.  Superb Impact Protection
Office Vision Lenses. NB NOT SUITABLE FOR OUTDOOR ACTIVITIES OR DRIVING: – (This is our only degressive lens). It's the only lens we offer which is not made from Trivex. It is a specialist blue light lens giving you protection up to 415nm so is great for screen use.
Office Vision is a digital freeform lens ideally suited to the office type of working environments.
This lens design enables you to have clearer and sharper vision over near and intermediate distances helping you to feel comfortable whilst working
It has a particularly wide near vision area which allows you to work comfortably at a desk or on a computer. It is free from noticeable distortions and gives you a good view of your surroundings making it easy to communicate with colleagues across a desk for example.
Why choose office vision?
They have been specifically designed to make the visually demanding office environment more comfortable to work in by enhancing the near vision and intermediate vision areas.
Still undecided or have some questions, please get in-touch with us.
Or if your interested please contact us, let us know what you think you might like and we can offer you a quick quote: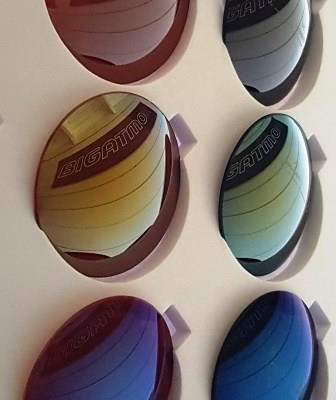 What About a Mirror Finish?
You could have a little fun with the Sun-lenses by choosing to add a mirror finish.
We have taken a long time researching and refining the technology used in the sun-lenses. So the mirror finishes used are also very important and need to be highly sophisticated. Most sunglass industry mirror finishes leave behind a chromium deposit which can alter the lens function. Our dielectric mirror finishes are very different and are specially designed not to change the integrity of the lenses. They are fun and can change the look of the lenses adding another dimension.